Home
›
JGAurora A5S, A1 & A3S-V2
›
Getting Started & Troubleshooting
JGMaker is having a CLEARANCE sale on the commercial-grade Z-603S -- at a BONKERS $399. If you're in the USA, and want a ready-to-go full steel frame printer... run, don't walk! ⏩
JGAURORA Z603S CLEARANCE
⏪ Only 4 units left!
A5S Adhesion issue - Can't figure out what is wrong [SOLVED]
soundegg
Posts: 3
Member
Hi everyone,
I hope you are all well.
I am quite new to the 3D printing space and my first printer is the A5S. However, I want to stress out that I am quite good with tech so I have done loads of homework and research in order to understand what the issue I am experiencing is, but I simply cannot figure it out, even though I have gone through a loooot of posts in this forum, so any advice you would give it could be life (or print) saving.
I am looking to print out a chassis that will be the enclosure for one of my university projects so I am looking to solve this out asap.
Facts:
- I have been using Fusion 360 to model and output the STL files I want to print
- I have been using Cura 4.8 to slice the models and generate the gcode. I have tried Cura presets, and also fiddled with some settings (mainly for the support)
- I am using the filament that was provided with the printer
- Some of my prints resulted in the nozzle being covered in PLA (hence the dirtiness).
- Because of the above point I have taken apart the nozzle and heat block. Cleaned everything with a cleaning kit and tried printing again. Extruding drips down and doesn't curl around the nozzle.
- I have also replaced the nozzle and tried printing. As above extruding drips down and doesn't curl around the nozzle.
- I also tried different temperature combinations. Bed between 55 and 65, Nozzle between 200 and 220. The print on the attached image was at 55/210.
- I have tried reducing the speed of the printer for the first layer too to 30% and 50% - No improvement
- As a precaution, I am leveling the bed every time I have a failed print and I am about to begin a new print. I use the A4 sheet leveling technique shown at the JGAurora video here >>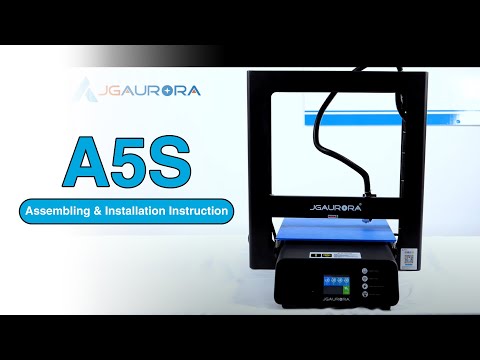 I am not sure this is a full list of all the troubleshooting I've done as I have spent so much time trying to fix this that I might be forgetting to mention something. Maybe it's worth mentioning that the sample gcode file that came with the printer was my first ever print and that came out fine. My first Fusion 360 STL/Gcode, which was supposed to be for testing, also came out fine, but the next parts have this issue you can see in the picture below.
I think I am losing my mind here!
Any suggestions will be highly appreciated!
Thank you all in advance, and I hope you are having a great weekend
Post edited by soundegg on