Home
›
JGAurora A5 & A3S
›
Modifications & Upgrades
JGMaker is having a CLEARANCE sale on the commercial-grade Z-603S -- at a BONKERS $399. If you're in the USA, and want a ready-to-go full steel frame printer... run, don't walk! ⏩
JGAURORA Z603S CLEARANCE
⏪ Only 4 units left!
Important things to know regarding stepper upgrade with TMC 2130 with SPI
Enrique Riri
Posts: 37
🌟 Super Member 🌟
Hi,
Had a lot of troubles upgrading to TMC 2130 v 1.1 using SPI, and after some hours, reads, tests, here are the MAJOR things to take care to success 100% this upgrade:
1st : Disconnect the 3 jumpers originally plugged on the Mother board , Under original steppers. Other way, you will blow the TMC2130 immediately and never see, you just burn your stepper board. Take care on that, happened to me.
2nd: Use only and exclusively Arduino v 1.8.5. Other way is hazardous and request some teawks . Follow the excellent videos in 2 parts provided.
3rd :Don't forget to erase internal RAM of motherboard after flashing: M502, then M500 with pronterface.
4th: Execute the commands codes commented (like on the video) using pronterface to check all is fine. Take care here, my first try with blowed steppers (after my error not unplug the 3 jumpers), reports me all is fine, and allow me to adjust the tension correctly). So enven blowed, all seemed to be fine, but NOT : no X/Y mouvement.
5th: adjust the right voltage for each stepper.
6th: you need a cooler fan for the stepper Inside. This is mandatory.
Finally, you just need to use 2 steppers for X/Y motors, that's it; Z/E0 is a waste of money and not really relevant.
All these conclude my success upgrade with TMC 2130 SPI installation : 100% working.
Now, I'm totally conscient jumping to new firmware with the last release of Arduino will request new detailled topic to make.
For thoses who want to go further and play with sensorless function: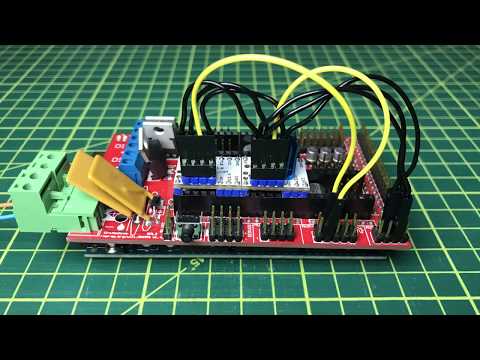 Post edited by Enrique Riri on